Overview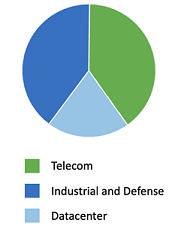 MACOM designs and manufactures semiconductor products for Data Center, Telecommunication and Industrial and Defense applications. Headquartered in Lowell, Massachusetts, MACOM has design centers and sales offices throughout North America, Europe and Asia. MACOM is certified to the ISO9001 international quality standard and ISO14001 environmental management standard.
MACOM has more than 70 years of application expertise with multiple design centers, Si, GaAs and InP fabrication, manufacturing, assembly and test, and operational facilities throughout North America, Europe, and Asia. Check out a list of our facilities. In addition, MACOM offers foundry services that represents a key core competency within our business. 
MACOM sells and distributes products globally via a sales channel comprised of a direct field sales force, authorized sales representatives and leading industry distributors. Our sales team is trained across all of our products to give our customers insights into our entire portfolio. Contact a local sales engineer or representative.
End Markets
Telecom: Enabling the Scale, Surety of Supply and Capacity Requirements for Wireless Infrastructure deployments. 
Industrial and Defense: Delivering both standard products and custom solutions that enable high performance and reliability.
Datacenter: Offering high-performance, cost-effective component solutions for next-generation Data Center networks.